Latest News
April 18,  2018
Dr. David M. Henneberry, Regents Service Professor in the Oklahoma State University Department of Agricultural Economics and former Associate Vice President at the School of Global Studies and Partnerships, will receive the 2018 Ohtli Award Monday, April 23, at 3:30 p.m. in Room 101 Wes Watkins Center. Henneberry is receiving the award in recognition of his more than 30 years of involvement with Mexico.
Henneberry has promoted awareness of Mexican cultural and social heritage on the OSU campus, developed several programs in Mexico and the U.S., including doctoral and agricultural extension programs, and has mentored Mexican graduate students in the U.S., encouraging them to apply to OSU and helping them to find funding.
The ceremony is being held as part of the festivities for the 156 Anniversary of the Battle of Puebla, also known as Cinco de Mayo.
The Ohtli Award, is the highest recognition granted by the Government of Mexico to those individuals who made an exceptional contribution to promote the well-being, prosperity and empowerment of Mexicans and Mexican-Americans living in the United States.
Previous Ohtli Award honorees include former Governor of New Mexico Bill Richardson, former U.S. Secretary of Labor Hilda Solis, founder of the U.S. Hispanic Leadership Institute (USHLI) Juan Andrade Jr., and former Mayor of Los Angeles Antonio Villaraigosa.
For more information, please contact Karen Espinoza at asistentelir@sre.gob.mx or (501) 372-6933.
April 18,  2018
Applications for the 2019-2020 Fulbright U.S. Student Program are now open. The Fulbright program provides graduate students and recent college graduates with opportunities to study, teach and conduct research in more than 140 countries. Applications are due Oct. 9, 2018.
Participants are selected through a competitive, merit-based application process. The Fulbright program helps provide participants with funding for their international experience, including travel and living expenses for one academic year.
The U.S. Department of State and the J. William Fulbright Foreign Scholarship Board, in cooperation with the Institute of International Education, oversee the international exchange program. The Fulbright program currently awards more than 2,200 grants annually and operates in more than 160 countries. Since its creation, the U.S. Student Program has awarded grants to more than 380,000 participants chosen for their academic merit and leadership potential.
To learn more about the program and view the application, visit https://us.fulbrightonline.org.
April 16,  2018
WASHINGTON, D.C. – Ted Vestal, professor emeritus of political science at Oklahoma State University, received the Knight Grand Cross of the Imperial Order of the Star of Honor of Ethiopia on March 3 at the Victory of Adwa Dinner. The honor is one of the highest Ethiopian rankings and included the formality of a dubbing with Imperial Court Sword on both shoulders by His Imperial Highness Prince Ermias Sahle-Selassie Haile-Selassie and the courtesy of being referred to as "Your Excellency."
Full article ---- https://cas.okstate.edu/news/archives/1371-professor-emeritus-at-oklahoma-state-university-receives-high-ethiopian-honor-award
April 12,  2018
STILLWATER, Okla. – The Crown Council of Ethiopia, in cooperation with the School of Global Studies and Partnerships at Oklahoma State University, will honor Dr. Clyde Kindell, a former OSU employee, with a Grand Officer award for his role as president of Alemaya College of Agriculture from 1960-1966 at a recognition ceremony on April 17 at 1:30 p.m. in Wes Watkins Center.
"OSU's involvement in the Point Four program in Ethiopia remains an important milestone in the university's emergence as a truly global institution," said Dr. Randy Kluver, Dean of the School of Global Studies and Partnerships. "The entire OSU Family greatly appreciates Dr. Kindell for his leadership."
Prince Ermias Sahle Selassie, the President of the Crown Council, will present the award to Kindell. The Crown Council of Ethiopia focuses on cultural preservation, development and humanitarian efforts in Ethiopia.
Kluver will open the ceremony and introduce the Master of Ceremonies, former Oklahoma congressional representative Wes Watkins. Mel Tewahade, director of the Point Four documentary series and businessman, will formally introduce the Prince to Kindell, according to Ethiopian protocol. The ceremony will conclude with remarks from Kindell and Kluver.
The event will also mark the 64th anniversary of Emperor Haile Selassie, Prince Ermias' grandfather, first visit to Stillwater in 1954. To date, Selassie's visit was the only visit of a serving head of state to the OSU campus.
The ceremony will be in Room 101 Wes Watkins Center and is open to the public. A reception will immediately follow. At 3 p.m., there will be a public showing of the fourth documentary in the Point Four series, directed by Tewahade, in Room 108 Wes Watkins Center.
The School of Global Studies and Partnerships (SGSP) serves as a strategic and administrative center for Oklahoma State University's global engagement. The School is housed in the Wes Watkins Center, which serves as a focal point for global activities at OSU. For more information, contact Sarah Bildstein at (405) 744-6179 or sarah.bildstein@okstate.edu.
April 11,  2018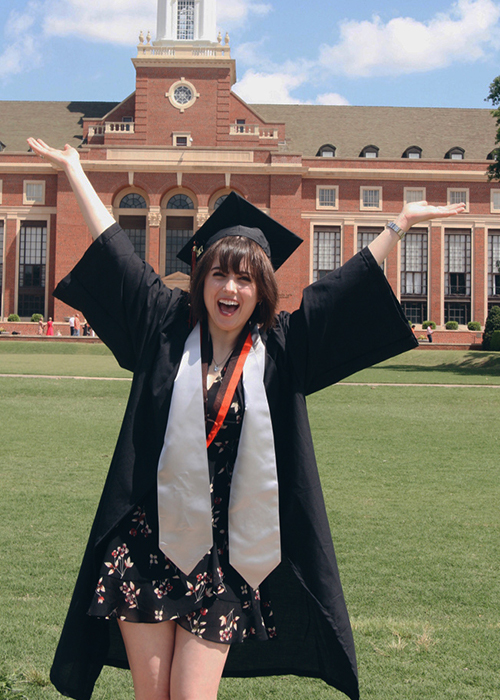 Iris Owens, a senior at Oklahoma State University, has been awarded a Fulbright English Teaching Assistantship in Germany for the 2018-2019 academic year. The prestigious program places recent college graduates in schools around the world to act as ambassadors for the United States, while improving foreign students' English language abilities and teaching them about American culture.
Owens, a graduate of Union High School in Tulsa, is scheduled to earn dual bachelor's degrees in history and German from OSU in May. She plans to leave for Germany in September. "Teaching English in Germany has been a dream of mine since I started studying German in high school," said Owens. "I am absolutely thrilled to have received this award. I cannot wait to get settled in at my school or schools in Germany and connect with my students." Owens credits faculty in the history and German departments at OSU for support and guidance. She said she was so excited when she learned about her selection for the Fulbright award that, despite the late hour, she called and woke her family members to tell them the news. In addition to her graduation in May, Owens will be inducted into the Phi Beta Kappa Honor Society, one of the oldest and most prestigious honor societies in the United States. While at OSU, Owens received the competitive Bailey Family Memorial Scholarship for a semester study abroad program in Graz, Austria. She also helped produce the first episodes of the Oklahoma Oral History Research Program's podcast, Amplified Oklahoma, for OSU's Edmon Low Library audio archives. The Fulbright U.S. Student Program is the country's largest student exchange program, offering opportunities to students and young professionals for graduate study, advanced research, university teaching, and primary and secondary school teaching worldwide. Funded by an annual congressional appropriation to the U.S. Department of State's Bureau of Educational and Cultural Affairs, the program was initiated by Senator J. William Fulbright in 1946 to foster international goodwill through the exchange of students in the fields of education, culture and science.
April 6,  2018
STILLWATER, Okla. – The Oklahoma State University Center for International Trade and Development (CITD) and the OSU International Trade Center – Small Business Development Center (ITC– SBDC) is set to conduct a NASBITE Certified Global Business Professional (CGBP) training April 10-11. The two-day event will help prepare attendees for careers in international trade and for the NASBITE CGPB certification exam. This is the first ever CGBP related training program in Oklahoma.
Program activities will include presentations by NASBITE CGBP Certified trainers and international trade practitioners. The content will provide participants with hands-on experience and expertise to help them succeed in the global marketplace. At the end of the training, attendees will receive a certificate of completion.
The NASBITE CGBP certification provides a benchmark for competency in global commerce. It also demonstrates an individual's ability to conduct global business in today's highly competitive global environment.
The CGBP certifies competency in each of the following four domains: global business management, global marketing, supply chain management, and trade finance. Documentation, legal and regulatory compliance, intercultural awareness and technology resources are covered in each of the four domains.
The training is sponsored by the OSU ITC – SBDC which is part of the Oklahoma Small business Development Center (OKSBDC) Network and is funded in part through a cooperative agreement with the U.S. Small Business Administration (SBA).
April 6,  2018
March 29,  2018
Untapped markets: Panel encourages Oklahoma companies to get more involved in exporting
About 95 percent of the global population lives outside the United States, and roughly 74 percent of the world's buying power is outside this country, banker Drew Felling said Tuesday.
"But it's a very small fraction of U.S. companies that are actually exporting," said Felling, vice president of international trade at Commerce Bank in Kansas City, Missouri.
"I would say there are 7:1 importers to exporters in the United States. If we want to grow as an economy, we need to be thinking more about exporting. China is the new middle class, and India is the new middle class. They're building and becoming consumer societies. If you're not thinking about exporting, you should be." The new cost for doing business in Tulsa.
That was the primary message Tuesday at Export Trade Matters, a seminar sponsored by the Tulsa Global Alliance and Commerce Bank at the Renaissance Tulsa Hotel & Convention Center.
March 22,  2018
School of Global Studies and Partnerships' Dean Randy Kluver was a featured speaker at a training workshop for senior Finnish journalists March 16 in Helsinki, Finland.
The event, co-organized by the Franklin Delano Roosevelt Foundation at Harvard University and a Finnish media network, focused on the role fake news in journalism. The workshop featured academic speakers from Harvard, Massachusetts Institute of Technology (MIT), the University of Exeter, and more, as well as senior Finnish journalists from the nation's top media companies, including YLE, Helsingen Sanomat, and others.
Dr. Kluver's talk showcased recent research he has completed with OSU School of Media & Strategic Communications' Assistant Professor Skye Cooley on geopolitical narratives in global media.
Participants also discussed Finland's public diplomacy efforts with senior officials from the Prime Minister's Office, the Ministry of Foreign Affairs, and the Ministry of Defense.
The training workshop was held at the Government Banquet House, or "Smolna," originally built as a private palace in the 19th century, and later became the official house of the Governor General of Finland. Today, Smolna is used primarily for government receptions and events.
March 20,  2018
Nowruz, known as the Persian New Year, marks the first day of Spring and the rebirth of nature. It contributes to cultural diversity and friendship among different people and communities through the promotion of the values of peace and solidarity.
The holiday is celebrated over 13 days with a variety of music and dance rituals involving fire and water, traditional sporting events, and ceremonies. Gifts are often exchanged between loved ones.
Many practice the tradition of gathering around a table, called a haftseen, that has been decorated with seven items, as seven is considered a lucky number. These items include an apple, garlic, vinegar, hyacinth, sweet pudding, sprouts and coins. Each is seen as a symbol of spring and renewal.
Photo by Azita Mehran/Tumeric & Saffron
Nowruz has been celebrated for over 3000 years in several regions around the world. Some of the countries that recognize Nowruz as a holiday are Afghanistan, Albania, Azerbaijan, Iran, Kazakhstan, Kyrgyzstan, Tajikistan, and Turkey. The United Nations declared March 21 as International Nowruz Day in 2010.
You can learn more about Nowruz on the United Nations' website. http://www.un.org/en/events/nowruzday/index.shtm
International Events
Apr

12

Lecture: Dr. Umberto Pappalardo – Pompeii and Vesuvius

Date: Thursday, April 12

Time: 5 p.m. Location: Room 035 Murray Hall

Dr. Umberto Pappalardo, director of the International Pompeii Institute, will give a talk on Pompeii and Vesuvius on Thursday, April 12, at 5 p.m. in the basement (Room 035) of Murray Hall.

Dr. Pappalardo is the director of excavations at Herculaneum, inspector of excavations at Pompeii, and Professor of Geoarchaeology at the Suor Orsola Benincasa University Institute in Naples.

The event is open to the public. For more information, please contact the event's host, Dr. David D'Andrea of the Oklahoma State University History Department at david.dandrea@okstate.edu.

Apr

11

Annual Phi Beta Delta Membership Meeting

Date: Wednesday, April 11

Time: 4 p.m.

Location: 109 Wes Watkins Center

The Epsilon Upsilon chapter of the Phi Beta Delta Honor Society invites members and guests to the 2018 Membership Meeting. This year's keynote speaker is Dr. Randy Kluver, Dean of the School of Global Studies and Partnerships. He will be speaking on "Enhancing Oklahoma State University's Global Impact."

A reception will follow the meeting. All guests are welcome.

For more information, contact the Phi Beta Delta Epsilon Upsilon Chapter at (405) 744-8569 or visit pbd.okstate.edu.

Apr

8

Oklahoma's Statewide Open Mosque Day

Date: Sunday, April 8

Time: 1 – 4 p.m.

Location: Stillwater Mosque & Islamic Center at 616 N. Washington St., Stillwater, OK 74075

The Stillwater Mosque & Islamic Center invites the Stillwater community and OSU students, faculty and staff to the 2018 Statewide Open Mosque Day Sunday, April 8. The program in Stillwater will be come-and-go from 1 – 4 p.m.

The program will include a brief welcome speech at 1 p.m., noon prayer at 1:45 p.m., henna tattoos and a Q&A session each hour. Refreshments and sweets will be served. All ages are welcome.

For more information, contact the Islamic Society of Stillwater at (405) 762-3258 or khaled.mansy@gmail.com.

Apr

3

Lecture Series: Higher Education & Student Affairs in China

Date: Tuesday, April 3

Time: 1:30 p.m.

Place: Anderson Family Living Room – Willard Hall

Join the College of Education, Health and Aviation Tuesday, April 3 at 1:30 p.m. in the Anderson Family Living Room for a special lecture series presented by the Joint Center for Student Affairs Research and Professional Practice.

Mr. Jue Wang, Fudan University China Visiting Scholar, will speak on "Higher Education & Student Affairs in China: The Fudan University Story." This series aims to promote a global understanding of the higher education and student affairs professions.

The Joint Center is a partnership between OSU and the University of Science and Technology Beijing (USTB). The goal of the center is to promote international exchange and scholarly collaboration in higher education and student affairs globally through a visiting scholar program, the lecture series and an internship program.

If you have questions or would like more information, contact Amber Coker at 405-744-8933.

Apr

2

Visiting Scholars Lecture: "Experimenting Architectural Designs Based on Traditional Culture"

Date: Monday, April 2

Time: 5 p.m. Location: Jack and Carol Corgan Auditorium – Room 170 Donald W. Reynolds School of Architecture Building.

The Donald W. Reynolds School of Architecture will host a lecture titled "Experimenting Architectural Designs Based on Traditional Culture" by two visiting scholars, Feng Tao and YiLing Bao, of the Pan Tianshou Arts and Design Academy at Ningbo University in China, Monday, April 2, at 5 p.m. in the Jack and Carol Corgan Auditorium (Room 170). The lecture will focus on contemporary Chinese architecture.

The lecture is open to the public, and refreshments will be served at the conclusion of the event. For more information, contact Dr. Michael Rabens at (405) 744-1358 or michael.rabens@okstate.edu.

Apr

2

Talk: What Is America's Interest in the Middle East?

Date: Monday, April 2, 2018

Time: 12 p.m.

Location: 108 Wes Watkins Center

John Glaser, Director of Foreign Policy at the Cato Institute, will speak on America's interest in the Middle East Monday, April 2, at noon in Wes Watkins Center Room 108. This will be the final Farzaneh Speaker Series talk for the Spring 2018 semester.

Glaser's research interests include grand strategy, basing posture, U.S. foreign policy in the Middle East, the rise of China, and the role of status and prestige motivations in international politics. Glaser has been a guest on a variety of television and radio programs and has had his work published in the Washington Post, the Los Angeles Times, Foreign Affairs, The National Interest, CNN, and Time, among other outlets.

Glaser earned a Bachelor of Arts in Political Science from the University of Massachusetts Amherst and a Master of Arts in International Security at the Schar School of Policy and Government at George Mason University.

The talk is free, and all are welcome. Light Persian snacks will be provided.

The IPGS Farzaneh Speaker Series hosts top scholars and policymakers who are specialists of contemporary Iran and the Persian Gulf Region.

Mar

30

Talk: Ramu Damodaran – "The United Nations and the Contemporary World Crisis"

Date: Friday, March 30

Time: 3:30 p.m. – 5 p.m.

Location: LeNorman Auditorium in the New Building for the Spears School of Business

The Spears School of Business is hosting Ramu Damodaran, deputy director and chief at the United Nations Academic Impact, as part of a speaker series for the MBA Professional Development Class Friday, March 30, at 3:30 p.m. in the LeNorman Auditorium in the New Business Building.

Damodaran will give a lecture titled "The United Nations and the Contemporary World Crisis." The talk is sponsored by OSU's School of Marketing and International Business, the Watson Graduate School of Management and the Cagle Center for Advanced Global Leadership and Engagement.

The United Nations Academic Impact initiative aligns institutions of higher learning and research with the objectives of the United Nations and the States and peoples who constitute it. Damodaran is also the current secretary of the United Nations Committee on Information. His earlier posts with the Organization have included the Departments of Peacekeeping and Special Political Questions, as well as the Executive Office of the Secretary- General.

The lecture is open to the public and is free to attend. A reception will follow at 5 p.m. in the building's Keystone Commons area.

For more information, contact Dr. Ajay Sukhdial at (405) 744-9000 or ajay.sukhdial@okstate.edu.

Mar

29

Muslim Student Association at OSU Talk: American Muslims: The True History

Date: Thursday, March 29

Time: 5:30 – 6:30 p.m. Location: Room 108 Engineering North

The Muslim Student Association (MSA) at OSU is hosting Adam Soltani, executive director of CAIR-OK on Thursday, March 29, at 5:30 p.m. for a talk titled "American Muslims: The True History" in Engineering North Room 108.

A dinner and social event will follow the talk at 7 p.m. at the Stillwater Islamic Society Center, 616 N. Washington St.

Both events are free and open to the public. No RSVP is necessary. For more information, contact MSAOKST@gmail.com.

Mar

15

The Qajar Lens: Diversity in Qajar Photography

The Qajar Lens: Diversity in Qajar Photography, a photo exhibition sponsored by the Dr. Ali Fazel Visual Archive, Media Collection and Digital Resources, has been extended to run through the end of the 2018 Spring semester. The exhibition is on display from 9 a.m. to 12 p.m. and 2 to 5 p.m. Monday – Friday in 201 Wes Watkins Center.

The exhibition showcases selected works of the court photographers of Nasser al-Din Shah, who was the King of Iran from 1848 to 1896. Nasser al-Din Shah promoted photography in his court and throughout Iran because he knew it was a sign of modernity. He created the first Iranian photography studio, the Royal Photo Studio of Iran, after the arrival of the French photographer Francis Carlhian in 1858.

Nasser al-Din Shah's court photographers also traveled around Iran to take photos of the land and people. The photographs of The Qajar Lens show the daily of life of the king's court and the Iranian people during Nasser al-Din Shah's reign.

The Qajar Lens is a collaboration between the Golestan Palace Museum of Tehran and the Iranian and Persian Gulf Studies program of Oklahoma State University.

Mar

14

Difficult Dialogues: Islamophobia in America: What does it look like in American culture?

Date: Wednesday, March 14, 2018

Time: 3:30 – 5 p.m.

Location: Room 035 Murray Hall

The Oklahoma State Difficult Dialogues team is sponsoring a panel discussion and Q&A session on Islamophobia in America and how we can respond to it.

Panelists include:

Ibraheem Rahhal – Marketing and Entrepreneurship undergraduate student
Sheryl Siddiqui – Chairperson for the Islamic Council of Oklahoma
Anna Facci – Oklahoma Organizer for Planned Parenthood Great Plains
Adam Soltani – Executive Director of CAIR Oklahoma

Check with your professors to see they are offering extra credit for attending.