Expo brings international flavors to OSU event
By David Bitton/Stillwater News Pressdbitton@stwnewspress.com
TThe pleasant aroma of food from countries all over the globe filled the Wes Watkins Center Wednesday as nearly two dozen student organizations offered a taste of their homeland during the annual International Expo.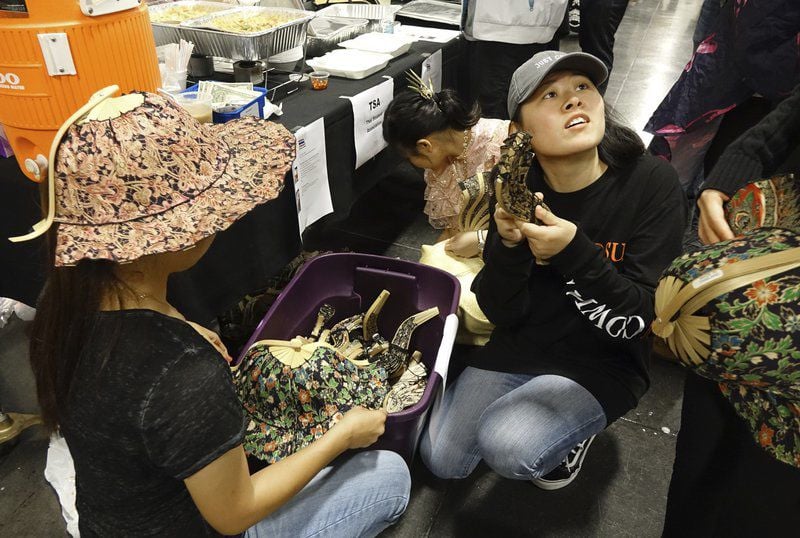 David Bitton/Stillwater News Press Ye Guo, right, 22, a senior strategic communications major, searches for the right hat/fan to buy Wednesday, Oct. 4, 2017 at the Thai Student Association booth during the annual International Expo at Oklahoma State University's Wes Watkins Center in Stillwater.
"It is like traveling around the world in a day," said Puja Jana, president of the Oklahoma State University International Student Organization, which hosted the event that has been going on more than 30 years.
During the lunch hour, student associations from countries including Saudi Arabia and South Korea sold food to hundreds of guests.
OSU has roughly 1,800 international students from more than 100 countries, with the majority coming from China (439) and India (425), according to fall 2017 data.
Minjoo Kim, 23, a PhD marketing major who was volunteering at the Korean Student Association booth said the event is a great way to learn about other countries while sampling their food.
Her group offered an array of food including bulgogi (barbecue beef) over rice with kimchi.
African Student Association volunteer and environmental science major Kim Ndong, 24, a senior, kept busy selling an African donut called a puff-puff and a drink called bissap, which was made from dried hibiscus flowers mixed with pineapple.
"People love it," said Ndong, who is from Gabon, Africa.
A line at the Thai Student Association was steady throughout the event, not only for the food and drink options but because they were selling a hat that doubled as a fan for $1.
The wooden object was decorated with colorful fabric with Thai patterns.
"I've never seen this type of hat before," said Ye Guo, 22, a senior strategic communications major. "This is a great event."
The event also featured a booth where Alejandra Barrera, a 31-year-old Health and Human Performance PhD student from Mexico City, was collecting monetary donations.
The funds will soon be helping the people of Mexico recover following last month's 7.1-magnitude earthquake that left more than 300 dead and thousands injured.
Barrera said nearly $2,000 had been raised in the past several weeks.
"I hope that in some small way this helps," she said.