OSU student awarded Fulbright to teach in Germany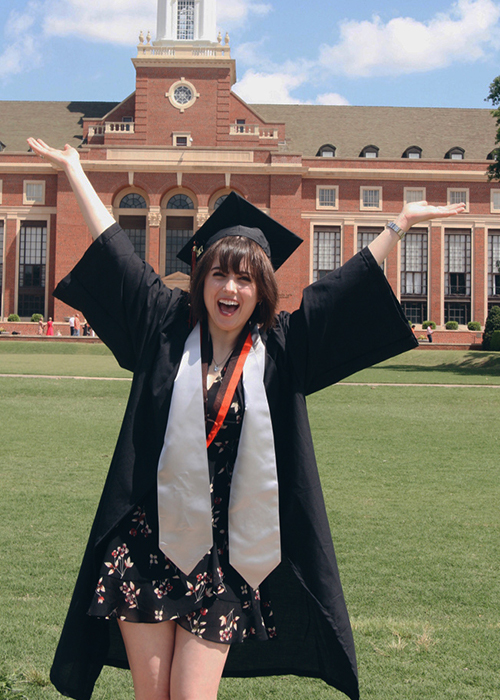 Iris Owens, a senior at Oklahoma State University, has been awarded a Fulbright English Teaching Assistantship in Germany for the 2018-2019 academic year. The prestigious program places recent college graduates in schools around the world to act as ambassadors for the United States, while improving foreign students' English language abilities and teaching them about American culture.
Owens, a graduate of Union High School in Tulsa, is scheduled to earn dual bachelor's degrees in history and German from OSU in May. She plans to leave for Germany in September. "Teaching English in Germany has been a dream of mine since I started studying German in high school," said Owens. "I am absolutely thrilled to have received this award. I cannot wait to get settled in at my school or schools in Germany and connect with my students." Owens credits faculty in the history and German departments at OSU for support and guidance. She said she was so excited when she learned about her selection for the Fulbright award that, despite the late hour, she called and woke her family members to tell them the news. In addition to her graduation in May, Owens will be inducted into the Phi Beta Kappa Honor Society, one of the oldest and most prestigious honor societies in the United States. While at OSU, Owens received the competitive Bailey Family Memorial Scholarship for a semester study abroad program in Graz, Austria. She also helped produce the first episodes of the Oklahoma Oral History Research Program's podcast, Amplified Oklahoma, for OSU's Edmon Low Library audio archives. The Fulbright U.S. Student Program is the country's largest student exchange program, offering opportunities to students and young professionals for graduate study, advanced research, university teaching, and primary and secondary school teaching worldwide. Funded by an annual congressional appropriation to the U.S. Department of State's Bureau of Educational and Cultural Affairs, the program was initiated by Senator J. William Fulbright in 1946 to foster international goodwill through the exchange of students in the fields of education, culture and science.